Romeo slip on work boots was designed to be easy to take on and off as well as offering comfort.
They are usually made using materials that adapt to the shape of your feet providing support as well as comfort. These types of boots also have protective features to keep the worker's toes safe from any hazards that may occur at the construction site.
On top of that, the Romeo slip on boot has convenient pull tabs at the front and back and inset elastic all designed for your slip-on ease.
Best Slip On Work Shoes For Comfort and Convenience Lovers
This is the list of the best slip-on work shoes I arrived at after extensive research:
1) Georgia Men's Giant Romeo Steel Toe GS262
2) Classic Slip On: Dr. Martens Men's Fusion Safety-Toe Chelsea shoes
3) Wolverines Men's Raider Romeo Contour Welt Steel Toe Work shoes
4) Redback Men's Safety Bobat USBOK DARK BROWN Elastic Sided Steel Toe Leather work Boots
5) Blundstone Men's Work Series 172
1) Georgia Men's Giant Romeo Steel Toe GS262
Nice Comfort
This Giant Romeo slip on work shoes was constructed with an EVA insole which contained a layer of material between the inner and outer soles of the shoe, helping with shock absorption which helped in keeping my feet more comfortable.
They also included a steel shank which was supporting the whole structure of the shoes, which in turn helped to reduce the pressure put on my feet when walking around the construction site.
Finally, what I loved about these Georgia slip on shoes was the fact that they fit nicely, which added to the overall comfort sensation this footwear offered me.
Worthy Protection
These Giant Romeo slip on work shoes came with an oil-resistant bumper guard and oil-resistant polyurethane outsole that prevented me from falling and being injured when walking on slippery surfaces while at work. This feature I really liked, as it boosted my confidence which also improved my overall performance.
In addition, the shoes had a safety steel toe that kept my toes from getting crushed if heavy objects were to fall, which happens a lot at my workplace.
Finally, it's worth to tell you that these slip on boots were made using top-quality full-grain leather which worked great against extreme external conditions such as water, mud, and snow. Next, to the boot's awesome slip resistant outsole, this was one of the best features!
Features and Specifications
EVA midsole
Steel Shanks
Oil-resistant bumper guard
Covered cushioned insole
Oil-resistant polyurethane outsole
Safety Steel Toe
2) Classic Slip On: Dr. Martens Men's Fusion Safety-Toe Chelsea Shoes
Comfortable Fit
First of all, these Dr. Martens Romeo slip on work shoes featured a fully air-cushioned footbed that ensures me total comfort while working.
Their design provided me with light support and stability that guaranteed me a perfect fit while providing shock absorption as well as comfort for my feet all day long. They also came with moisture wick lining that enhanced their comfort by minimizing moisture inside them.
In terms of convenience, this particular shoes was constructed with elastic sections at the sides and ankles to help keep them snug, allowing me to easily slip them on and off, all while keeping a comfortable fit.
Finally, the shoes came with a wooden shank to ensure proper foot alignment for added comfort. Which, in my opinion, was essential for adopting a good posture while working at the construction site.
Better Durability
These shoes were built by adopting the Goodyear Welt construction method which means that the upper and sole of these shoes were stitched together, as opposed to being glued, which is how most of the other slip on work boots I used in my years as a construction worker were made.
I mean, this manufacturing technique made the shoes more durable than those which were merely glued together, which was something I could notice right away after first putting them on.
What is better is that even after several years of wearing these shoes they can easily be repaired and continue to be worthy for many more years.
Features and Specifications
Fully air-cushioned sole unit.
Deep Smartmask PU-cushioned footbed ensures total comfort.
Full-grain leather upper for the ultimate in durability.
Goodyear welted means the upper and sole are stitched together, not glued
3) Wolverines Men's Raider Romeo Contour Welt Steel Toe Work Shoes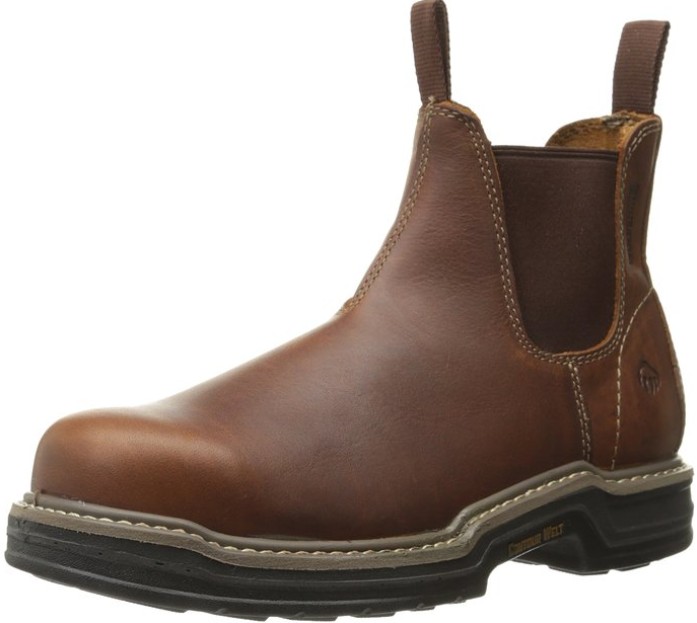 Extreme Comfort
These Wolverine slip on Romeo work boots came with MultiShox removable full-cushion footbeds that provided me with light support and stability while ensuring a great fit during the testing period. This removable footbed provided great shock absorption as well.
Additionally, these Wolverines shoes boasted a contour welt which allowed them to bend and flex at essential points providing the comfort of an athletic shoe while also having extremely protective features such as a safety steel toe.
Protection and Durability
In terms of productivity, the shoes came with a safety steel toe which was rated surpassing the ASTM F2413-11 M 175 C/75EH standards. This prevented my toes from getting crushed if a heavy object were to fall and strike the shoes!
The shoes also had great durability features such as a quality full-grain leather that on top of adding protection it gave an extra layer of protection to shelter the shoes from tough external conditions.
To conclude, the shoes were constructed with a contour welt, a manufacturing method that makes the boots more durable thanks to its manufacturing process, which is one of the main reasons I decided to incorporate these Wolverine slip on work boots to this list.
Features and Specifications
Wolverine MultiShox removable full-cushion footbed with mesh sock liner
Lightweight PU midsole
Steel-Toe rated ASTM F2413-11 M I75 C/75 EH
Wolverine contour welt construction
4) Redback Men's Safety Bobat USBOK DARK BROWN Elastic Sided Steel Toe Leather work Shoes
Secure Protection Everywhere
I don't know what other workers expect from their work boots, I just know I want to be protected. And what better way to achieve this than with a couple of good-quality steel toe caps?
My expectations were addressed as my toes were fully protected from any kind of objects laying around the construction site that could have fallen into my toes at any time thanks to two safety steel toe caps that came as part of these boots.
Those caps gave me the confidence to do my job without that goddamned fear that I might get hurt at any moment!
I have slipped and fallen many times during my years as a construction worker, I'm scared to death of ever hurting myself in that way again. I remember having to lay in bed close to three weeks for falling on my back one time… (oh the pain, I can feel it as if it was yesterday!)
That distress was reduced to nothing after testing these Redbacks as they came with multi-directional cleats on their outsoles which had design patterns precisely created for giving me a secure traction in all surfaces I would want to walk on (especially the sketchy ones!).
Great Durability. Even For The Scariest Jobs.
A couple of years back I spent more than 200 bucks on a pair of leather work boots that were supposed to last me a minimum of five years (at least that's what the salesman told me!). They ended up completely breaking after only one year and a half.
I'll never forget that feeling of knowing I was scammed, it was so painful.
I swore I'd never buy another pair of boots without having complete assurance of its durability. And that promise was kept as to these Redback boots.
Their structure came built using full grain leather skin that wasn't only good-looking but also really soft at the touch of my fingertips.
Furthermore, the airflow maintained my feet cool even on those hot days when the heat was REAL, thanks to the boots leather uppers that allowed my feet to breathe nicely and comfortably.
I think nothing feels better than knowing you bought something with your hard-earned money that's really valuable and useful, right?.
Well.. at least that kind of value is what I've found in these Redback boots.
They were made with oil and acid resistant TPU (Thermoplastic Polyurethane) outsoles, that performed great even in the scariest surfaces in the construction site where I work at. They didn't only give me the traction I needed, but also remained with their outsoles untouched!
Comfort At Every Move
It's a truth universally acknowledged among tradesmen that there're a lot of bumpy surfaces on a construction site which is a pain to walk on using regular work boots.
But, that wasn't the case with these Redbacks as they had the so-called "Urethane Air Cellular" midsoles made of millions of air bubbles that provided me with great shock absorption, pleasurably returning energy to key parts of my feet and making the test experience so much nicer.
If there's one thing I know in terms of feet comfort is that if I get any kind of heel pain, then my whole work day is ruined.
Yeah.. heels are kind of essential for me.
Luckily, I achieved a permanent level of comfort with these Redback boots, as they had heels that were reinforced with three layers, providing me with the necessary steadiness and comfort in every movement I took when testing them in the construction site where I work at.
Features and Specifications
Steel toe cap safety
Multi-directional cleats on the outsole for greater traction in all terrains
Improved lightweight, two-component Urethane Air cellular midsole with millions of tiny air bubbles to improve shock absorption, energy return, and weight reduction.
3 layer reinforced heel for comfort and support
5) Blundstone Men's Work Series 172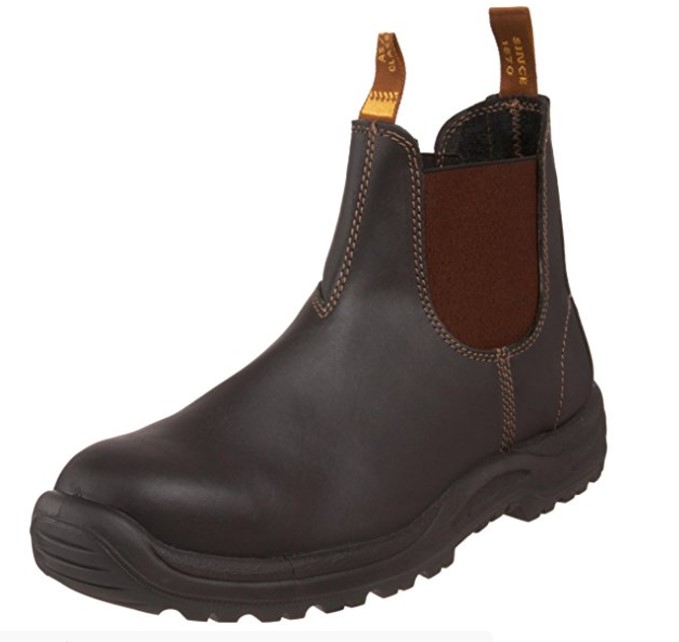 Protection For an Anxiety-Free Working Experience
How could these Blundstone slip on boots be so protective for my toes was something beyond my reasoning. But I really didn't care as this toe protection is everything I look for in a pair of boots.
The safety steel toes and the tough kick guards made that possible, as they were aimed to protect my toes from scuffs, cuts and possible injuries caused by falling objects that are usually laying around the construction site where I work at.
Also, the certainty that I wouldn't get electrocuted during my work shift was something I appreciated from these boots, as they were electrical hazard resistant (one of the manufacturer's main selling points, and a deal breaker for me).
My conscience was at peace because I knew the boots would block electricity even if I were to work near wires or any other "risky" elements.
"I love to trip and fall on my butt every day at work", said nobody ever.
Well, at least that's what it seems is in the minds of many work boots manufacturers as they don't usually include such top-quality slip resistant outsoles in their designs as the guys at Blundstone did.
I mean, the outsoles in these slip on boots gave me the assurance that I could walk in those sketchy surfaces at the construction site I often get anxiety walking on!
Durability Up To The Standards
For the better part of my years as a construction worker I always loved the sensation of proudness that comes from getting a new work gadget that I KNOW it's gonna be practical while enduring my use for years to come (YES, years.. I'm kind of a demanding guy, do you agree?).
This exact feeling is what I got after testing these Blundstone slip on work boots for a couple of months as they got really cool and durable features, such as their heat, oil, and acid resistant thermo-urethane outsoles made to withstand really tough conditions.
I mean, if they could survive the surfaces at my construction site where I tested the boots on, those outsoles can survive anything.
Most workers would tell you "Yeah.. they're durable.. they seem well built and tough". But I'm not like that, I need some kind of guideline to label a pair of boots as durable.
And that's what I got with these Blundstone slip on boots, as they were marketed as surpassing the ASTM F2413-05 quality standards for foot protection and quality build.
Which, after looking on google for a little bit seem to be genuine, giving a huge chunk of credibility to the boots that surpass them. Impressive, right?.
Sustained Comfort During Your Work Shift
It wasn't until I felt the cushioned comfort of these Blundstones "Xtreme Comfort" removable footbeds that I understood the importance of a good quality insole.
Those footbeds were made of a superior material called Polyurethane that made the boots much more malleable and breathable than the rest of the other boots in the market.
I also got sustained levels of energy and comfort during the work day while testing these slip on boots. This happened thanks to the "Poron-Heels" that made a key part of my feet feel much more at comfort and not in constant pain (as I'm used to be at my job).
Would you like to buy a pair of slip on work boots that doesn't fit well? No?.. Well, me neither.
That's why I was happy with these Blundstones as they had elastic side gores that made them fit incredibly well, even in my weird-shaped feet!
To conclude, I felt a huge level of comfort that didn't dissipate during the work day (even in my 12-hour-long work shifts). This was possible thanks to the Shock Protection System (SPS) that reduced my feet and knees stress thanks to their design elements aimed to dissipate shocks produced by walking.
Features and Specifications
Leather upper for durability. (leather that makes the boots be durable)
Extra-heavy duty rated.
Xtreme comfort PU/foam removable footbed with Poron heel and forepart inserts. (Provides light support and stability ensuring the perfect fit, also provides shock absorption when walking)
Elastic gore on sides for easy on and off.
Shock Protection System (SPS) disperses shock at the heel strike and reduces skeletal stress on the feet, knees, and vertebrae.