Water shoes are a type of footwear typically used for activities in which you make frequent transitions between dry land and water. Most are made with mesh or neoprene uppers and use a grippy rubber sole that provides better traction on land whilst also preventing cuts and abrasions when you're walking in rocky terrain around the water.
The benefits of water shoes vary depending on the type of activity you're using them for. That said, there are three more general reasons to wear them that are applicable across the board: safety, comfort, and versatility.
Safety
Wet environments are almost invariably slippery environments – we've all seen the videos of canyoners, boaters, or peeps one second strolling along rocks, a boardwalk or the waterside and the next second sliding onto their backside…or worse. Water shoes mitigate this problem by using a sole that's grippier than the soles of our feet and even some. Most water shoes also have fairly aggressive tread patterns and deep lugs that provide superior traction when walking on sand, mud, and loose dirt.
Optimum traction
As these are primarily meant to provide support in wet and slippery terrains, optimum traction is a must. For example, when you explore lakes and rivers, you are bound to come across very slippery surfaces that can easily make you prone to injuries. Even when you walk on the beaches, there will be moss-laden surfaces on rocks.
This can be even more intimidating if you are hiking uphill or downhill -not only your feet could get hurt, but your knees will also suffer for it! Again, it all comes down to specific conditions as, in this scenario, you may choose to keep your hiking boots and let them get as wet as needed (hint: always bring your gaiters too!)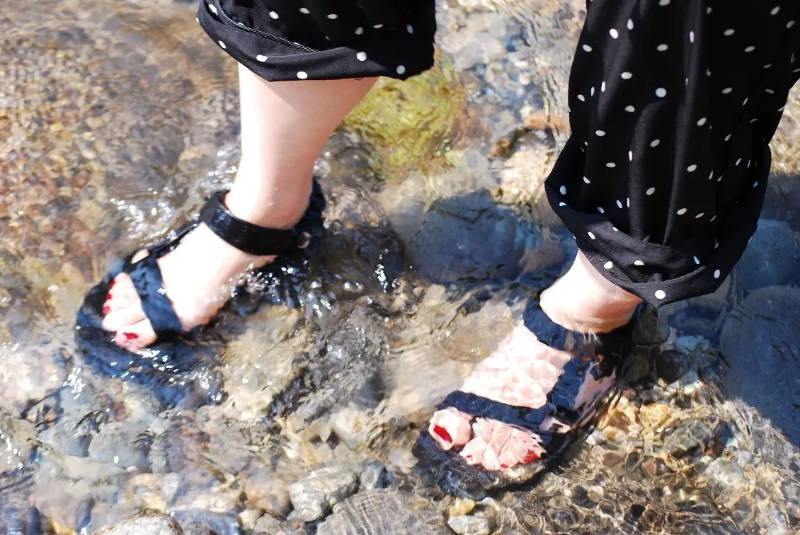 Drainage
Water shoes, as mentioned at the beginning of this guide, aren't waterproof. But, they are designed to drain water faster using holes in the soles and through mesh-like fabrics. Since water isn't absorbed, shoes won't feel heavy -allowing you to hike more comfortably.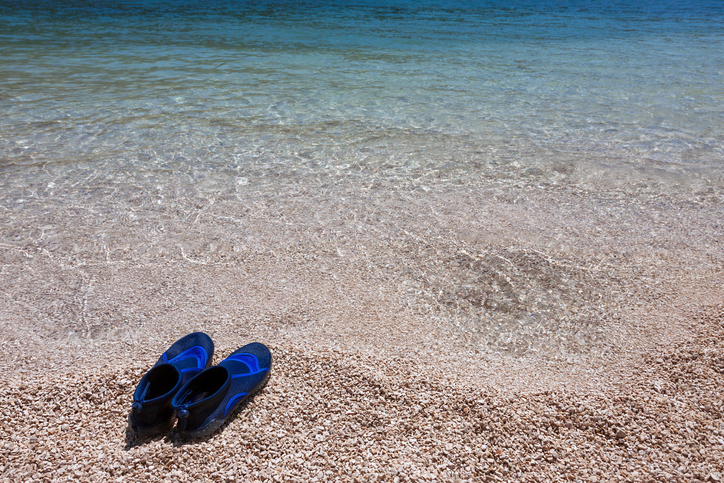 Material
When you are looking for the best pair of water hiking shoes, always pay attention to the material because it affects many factors like breathability, insulation, comfort, and drainage.
Although many often come in synthetic materials like nylon and spandex, you also get them in leather and canvas -depending on the type. For hiking, we recommend shoes with a synthetic mesh design that's quick-drying and breathable.
If you want to prevent water from getting in as much as possible, go for one with a neoprene layer.
Design
As there are different kinds of water shoes, the designs are also varied -more dets on this on our selected picks. I prefer sandals that fit tight – I despise the squicky sound and feel of loose footwear!
You'll know how important it is to get the best water shoes you can find if you love fording rivers, following streams, exploring waterfalls and wet canyons, swimming in lakes and the sea, paddling a canoe, kayak or SUP, or simply messing about in rockpools. Particularly in the warmer months, water shoes and sandals are brilliant for swimmers, aquatic sports enthusiasts and coastal walkers who want the freedom to get in and out of the water, with some protection for their feet.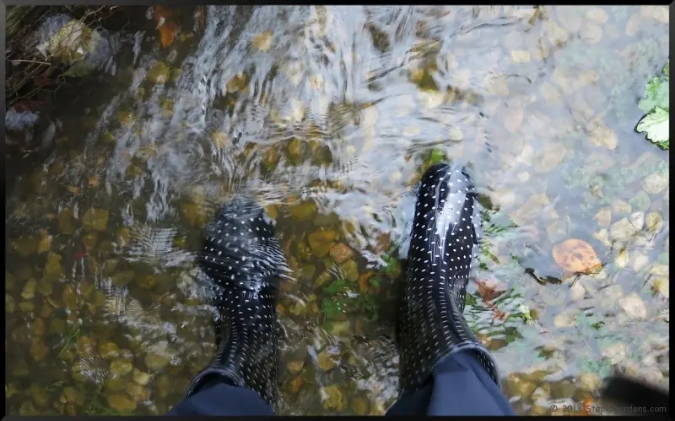 Versatility
One of the main benefits of water shoes is that some models can be worn in any environment – at home, in the car, around town, in the wet stuff, by the waterside, and even on short hikes in boggy terrain. Having a pair of water shoes, therefore, will not only save you having to constantly change your footwear throughout the day (and lug them around with you), but should also help to keep your land-specific footwear in better shape.
These days, you can upgrade the quality of your shoe simply by choosing a more amphibious option. After all, who says that your water shoe should only be used in moist environments? The best shoes give you the versatility you need for a wide range of outdoor activities. From kayaking to rock-climbing, the right shoe enables you to do your thing—no matter what it happens to be.
For this reason, make sure to consider the versatility of your options before buying. Do you anticipate doing more than just waterside activities? If so, get a shoe that gives you the best chance of success in a broader range of domains. Not only will this help save money on shoes, but it will also give you more value in your specific purchase, helping you maximize utility and benefiting your budget at the same time.
You'll want to remember, however, that water shoes—no matter how amphibious—shouldn't be considered substitutes for proper active shoes for athletes and other individuals spending tons of time hiking the trails or running tracks. As such, be sure to understand the limitations of your desired model so that you can get the most out of it upon purchase.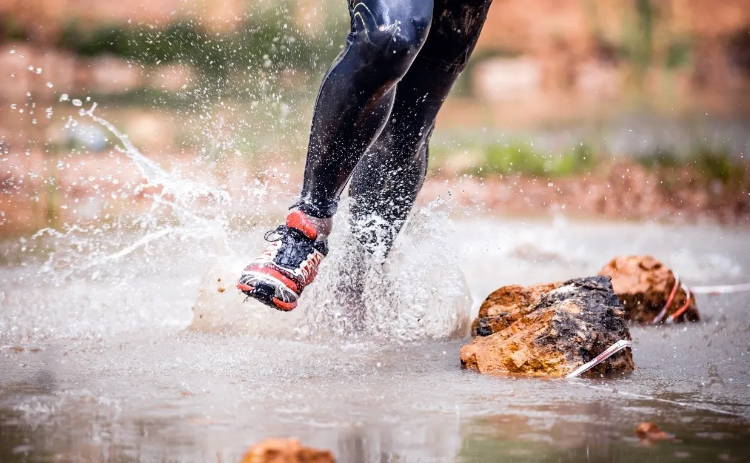 Comfort
While wearing regular running shoes or bare feet while doing sports in and around water is feasible, there are two reasons why your feet won't thank you for it. First up, unlike regular running shoes or sneakers, water shoes don't get waterlogged when wet and are designed to dry very quickly. This not only helps to reduce the risk of chafing and blisters, it also saves you carrying extra weight on your feet and letting your skin become so soaked that it starts thinking about developing gills, scales, and flippers. Secondly, making the transition from water back to land is usually the worst part of any water-based adventurer's day, and not only because it means the fun's over until the following weekend, but because doing so usually entails walking on something that's far from foot-friendly, whether it be rocks, sand, pebbles, boardwalks, or plain old asphalt or concrete
Weight
Water shoes should be as light as possible because they are bound to gain some weight in water. Selecting a heavier shoe will cause discomfort when walking on the ground as well. It also makes it easy to carry them around if you are using them only during a river crossing -or other similar tasks.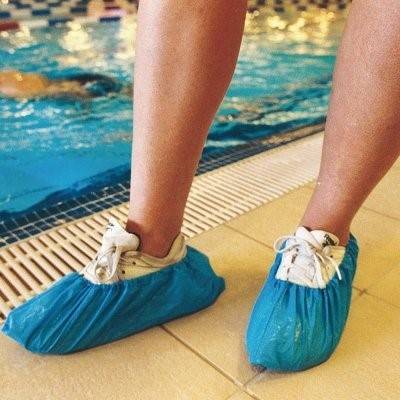 The Ultimate Water Shoe Guide
When you're walking in murky water, sometimes it's best not to know exactly what's under your feet. The only thing you need to know is that your little piggies are well protected from whatever lies below. That's where owning a great pair of water shoes comes in handy!
The right pair of water shoes (aka swim shoes, aqua shoes, pool shoes) will give you the freedom to go wherever you want go—whether that's hiking the Napali coast (Kauai, Hawaii), rafting down the Colorado River, or just lying on a beach reading your favorite novel. As we will discuss, there are several "musts" you should consider when purchasing your next pair of water shoes: your aquatic shoes should be easy to clean, quick to dry, and should provide the traction you need, for starters. And of course, your kix should look great too!
What you put on your feet is highly personal. Just like other types of footwear, water shoes should appeal to the heart as much as to the senses. You want to feel good with your aquatic footwear and be able to use them even when you don't plan on getting wet.
This guide looks at the best pair of water shoes for women. We know—you're itching to see which pairs made the top of our list. However, we want you to consider these six things BEFORE you purchase your next pair of water shoes