Just because it's cold, snowy, rainy, or a downright blizzard outside doesn't mean the treadmill is your only option. There are plenty of winter running shoes that boast weatherproof features and can keep you on your favorite outdoor routes all season. Whether you're hitting slushy sidewalks, roads slicked with black ice, or frozen single track piled with snow and mud, there's a shoe that offers the grip and protection you'll need.
Check out quick info on our five top tested shoes below, then scroll deeper for even more options plus additional buying advice from our gear experts and links to the full reviews.
Cold Temps, Hot Features
One thing to keep in mind when shopping for winter shoes is preventing soggy socks before they lead to frozen feet. Many brands create "GTX" versions of their most popular shoes—like Brook's Ghost or Nike's Pegasus—with a Gore-Tex waterproof membrane on the upper so that the trainer can withstand rain, snow, and sludge. Another feature to seek out when choosing winter running footwear is a reliable outsole with grippy lugs. If you're slogging through whatever weathered terrain Mother Nature has laid out for you, outsoles with pronounced lugs will guard against slipping and sliding.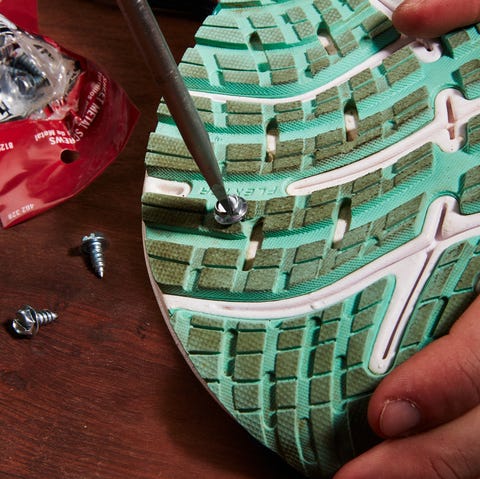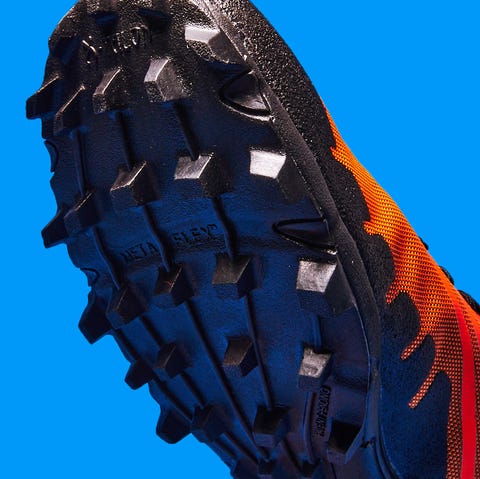 Finally, of course, you want your winter shoes to keep your feet warm. Shoes with an integrated knit sock, plus a durable upper mesh with overlays, will provide warmth as well as extra protection. Many of the shoes below even offer integrated gaiter attachments (because no one likes getting snow in their shoes). If you know you'll be running through stretches of deep snow, opt for a "mid" style of your favorite running shoe or fast hiker, if its available. The higher cut will keep you covered past the ankle.
How We Chose These Shoes
Every shoe on this list has been vetted or tested by our editors here at Runner's World or members of our capable wear-test team. In addition to our own research, we've spoken with brand reps and product engineers, consulted user feedback and reviews, and utilized our own extensive experience with both running and the running shoe industry. We also analyze data from our RW Shoe Lab and mechanical tests, where we've checked and re-checked each shoe's energy return, measured its midsole softness and flexibility, and assessed its stability features. We've handpicked each pair below based on value, test impressions, expert recommendations, and most importantly how the shoe performs overall in cold temperatures and wintry conditions.
Nike Air Zoom Pegasus 37 Shield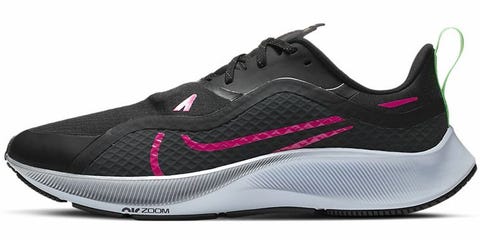 When Nike puts out a new Pegasus, you had better believe a lot of thought went into it. The midsole is all new, with springy React foam—instead of Cush on ST—and a larger forefoot air unit (a sealed pocket of pressurized air that's tightly wrapped by knit fibers), which helps give the Peg its well-known energetic ride. It also saves weight, so the shoe still feels light, even though the Pegasus 37 now has an entire 2mm more of foam underfoot than the 36. The resulting shoe hits a sweet spot that so many trainers strive for. "The ride is comfortable, responsive, and snappy," one tester said. "Normally you don't get all three from shoes." In the Shield version, the upper's forefoot is water-resistant, and an all-weather outsole has small grooves that provide better grip and channel water out from underneath your foot.
Brooks Divide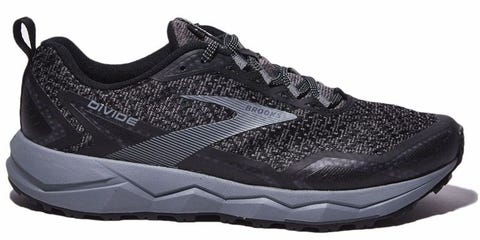 The Divide is Brooks's budget-friendly trail shoe, featuring a lightweight rock plate in the midsole and a Trail Tack outsole. Though its tread pattern is less aggressive compared to the brand's other offerings—like the Caldera and Cascadia—the Divide's sticky lugs and wide, stable heel made it feel surprisingly grippy and secure to our testers. "This shoe had great traction without feeling cumbersome," one said. "Transitions from road to trail felt seamless, and it performed well on both wet and dry surfaces."
Topo Athletic Ultraventure Pro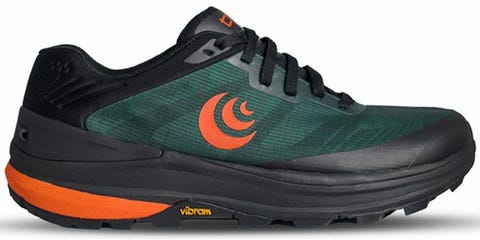 The new Pro shares many of the features that earned the original ultraventure our Editors' Choice award in 2018, but this model is better suited for whatever Jack Frost might dish out this winter. A toothy Vibram Megagrip outsole offers excellent traction over both groomed and dicey terrain, and a more durable upper lends extra protection and a snugger fit through the midfoot. Drainage ports, gaiter attachments, a forefoot rock plate, and a TPU heel counter (which provides support over icy patches) complete the list of features that make the Ultraventure Pro a trail master. "These Topos are about as good a trail shoe as you can get," one tester said. "The forefoot lugs are angled to bite in on the climb while the heel lugs are tapered opposite for downhill traction. A large toe box and firm, ample cushioning make them comfortable enough to wear for my next long trail race, perhaps up to 100K."
Merrell Nova 2 / Antora 2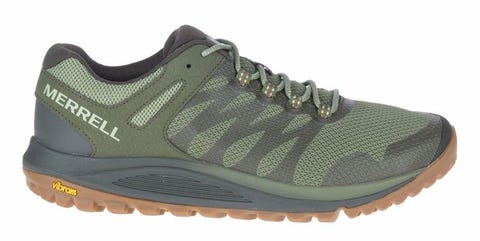 Merrell designs distinct men's and women's models to accommodate the physiological nuances between sexes. For the women's Antora, that meant adding a stabilizing post below the arch and placing softer foam under the medial heel and lateral side of the forefoot. (This discourages excessive sideways motion between touchdown and toe-off.) Since that movement is less common among male runners, the Nova uses a more flexible midsole that amps up ground feel. However, both shoes still have the goods for handling weather-beaten trails: hardy forefoot rock plates, abrasion-resistant textile and TPU uppers, and grippy Vibram outsoles with deep, sticky 5mm lugs. "I'd rate the traction as the best I've experienced," said one tester. "I ran eight tough, technical miles on the Appalachian Trail and never worried about a step over rocks, dirt, and grassy singletrack."
VJ XTRM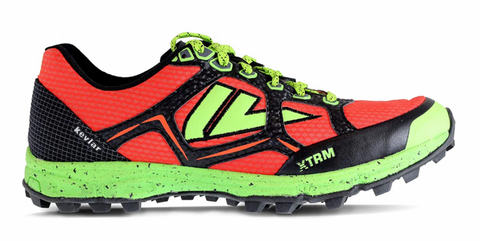 One look at the XTRM tells you what it's designed for— the gnarliest, muddiest trails can find. "This shoe definitely lives up to its claim of best grip on Earth," says one tester who wore it on snowy, slippery, and steep sections of the Appalachian Trail. "From snow to creek crossing to boulder jumping, the traction never failed me no matter what I threw at it." Credit the very toothy sole made of hard, durable rubber that bites hard into soft ground. VJ made the XTRM to excel at mud runs and OCR, so it's no surprise that the 6mm lugs are widely spaced to shed mud as you move.
Icebug Pytho 5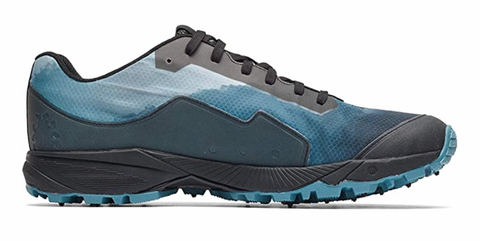 With the distinguishing carbide studs, the Pytho 5 is a vehicle for grip, even on ice. "Traction on this shoe is definitely better than any shoe I have ever worn and brought confidence to my running," said one tester, who used the shoe on peaks high enough to have snow in summer. While the shoe performed well on soft surfaces, the sound of the metal spikes on rock (or pavement) was a little grating, although it didn't seem to affect grip. The moderately cushioned midsole provides just enough softness and shock-absorption underfoot, and the weather-proofed upper kept our feet toasty during mid-January long runs.
Inov-8 TerraUltra G 270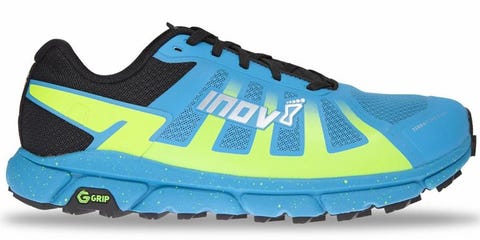 A thin layer of Inov-8's Graphene-infused outsole rubber and water-dispersing 4mm lugs let the TerraUltra tackle all the frozen slop you'll hit on the streets post-snowstorm. Though the upper's exterior doesn't incorporate rugged ballistic nylon—the same material used in the construction of bulletproof vests—like that of the brand's , it doesn't lack durability. Its slick rubber overlays quickly shed any splattered slush that might weigh you down, and its lighter AdapterFit mesh with a widened toe box allows for a more comfortable fit over longer distances. You'll also find a 3mm-thicker stack of softer PowerFlow Max foam underfoot, which feels bouncier on unforgiving frosted dirt and gravel. "This shoe offers the perfect marriage of a hiking boot's grip and the smooth, firmly cushioned ride of a road shoe," one tester said.
Salomon Sense Ride 3 GTX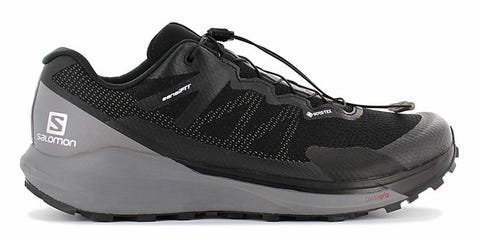 Salomon bonds a fully protective Gore-Tex waterproof membrane to its most popular trail shoe, the original sense, for more sleet-splashing and snow-splattering with weatherized quick-pull lacing to match. The durable cord-like laces loosen and tighten on an adjustable cinch that locks in a secure fit, and then easily store inside a pocket on the shoe's tongue. Underfoot, a sturdy rock plate shields against ice and trail debris, while diamond-shaped lugs target the shoe's forefoot and heel for grip that digs in when you land and holds firm when you toe off.
La Sportiva Bushido II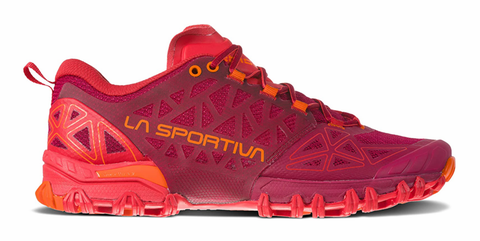 The Bushido II has a reinforced TPU web that shields the upper and adds lightweight stability, while a compression-molded EVA midsole is firm from heel to rubber toe cap. Two distinct treads round out the shoe's armor underfoot, with toothy, multi-directional pegs at the center and bevelled lugs that climb up and over the outsole's rim. The combination lets the Bushido claw into steep ascents, brake hard on downhills, and anchor against sideways slides in ice and snow.
Saucony Peregrine ICE+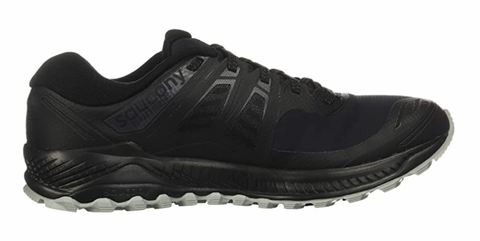 Though the ICE+ has yet to receive Saucony's new bouncy PwrRun foam treatment, it still has the same capable midsole chops as the Prigrine. A full-length TPU-based topsole paired with thick EVA foam gives the shoe a firm, protective ride that doesn't lose its responsive feel when the mercury drops below freezing. Testers found that the sleeker, water-resistant upper held up well when breaking trail in fresh snow, and also helped keep their feet warm. Vibram's Arctic Grip rubber on the outsole grabbed icy patches much better than standard rubber, but not quite as well as a spiked sole. The plus side is that when you transition to smooth sections of road, you'll really appreciate the absence of spikes.
Hoka One One Challenger ATR 6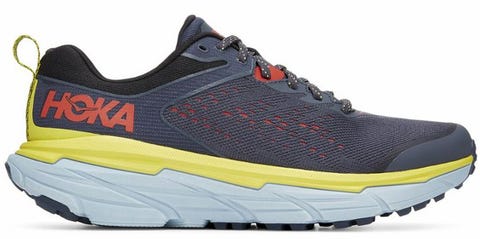 With its sticky 4mm lugs providing traction in snow and mud, the Challenger ATR excels in winter conditions for its versatility. "On a single trail run, I was moving over rocks, roots, leaves, and then into fields and a long road section," one tester said. "These shoes did well across all conditions." Though the upper isn't waterproof, you can grab a GTX version for both man and women .However, when paired with a thick wool sock, we found even the non-GTX model provided solid warmth and protection in all but frigid temps. The tall, plush midsole feels soft—but not mushy—while keeping your feet far from the cold ground. The SpeedGoat of another Hoka favorite among our testers, but they liked that the Challenger comes in a full ounce lighter.
Altra King MT 2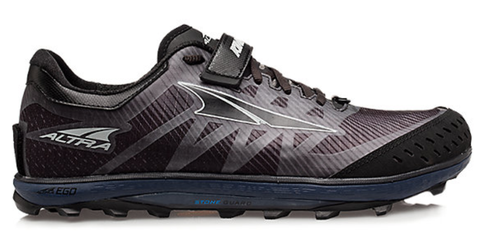 These extremely grippy shoes are ready for all sorts of winter slop, and the Velcro strap across the midfoot means the shoe stays on no matter how sticky the mud. Another benefit of the strap is that it secures feet on downhill runs, so toes don't jam up against the front of the shoe. The upper is completely redesigned Though not completely weatherproof, the durable mesh dries quickly.