There are a lot of issues with today's waterproof insulated work shoes, such as:
Bulky materials that make the boots heavy and uncomfortable
Non-ergonomic designs that make using a pair of work shoes for more than a few hours a pain in the you know what
Low quality components that substantially shorten the lifespan of the shoes
Lack of features to keep the feet dry and warm when working exposed to water and snow
Even though these issues make finding a good work shoes that's insulated and waterproof a huge headache, there still is a few options out there. The good news for you is that I took it upon myself to test and research various shoes to find the best waterproof insulated work shoes.
The 5 Best Waterproof Insulated Work Shoes
This is the list of the best waterproof insulated work shoes I arrived at after extensive testing:
1) Timberland PRO "Boondock" Waterproof Insulated Work shoes
2) Timberland "PRO Direct Attach" Steel Toe Waterproof Insulated shoes
3) Wolverine "Gold" Insulated Waterproof Work shoes
4) Irish Setter 83838 "Mesabi" Waterproof Insulated shoes
5) Chippewa Waterproof Insulated Steel-Toe EH Logger shoes
1) Timberland PRO "Boondock" Waterproof Insulated Work Shoes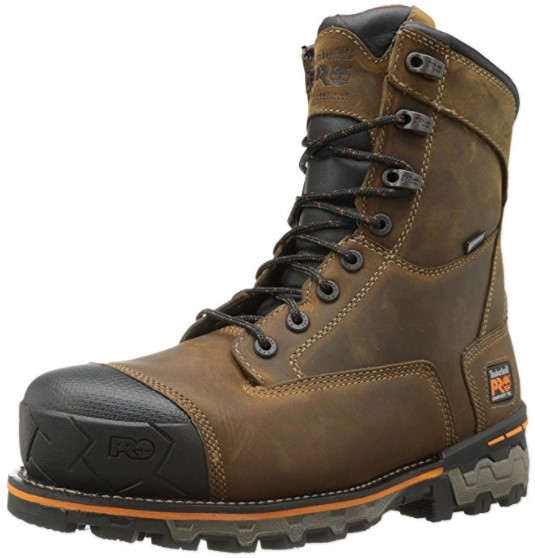 Feeling water coming through your feet is the worst, all workers know that.
Which is why I liked the superior waterproof membrane that came on these Timberland boots which prevented water from coming inside of them.
Even when working in the pouring rain, my feet stayed dry and unlike some of my co-workers, I didn't have to bear the discomfort of soaked feet.
Have you ever felt your feet so cold that you thought they were frozen?
Well, all of us have been through that experience. Especially when working in construction sites, which is why I think having insulated work boots is vital.
I've noticed that even in freezing temperatures, the lightweight insulation of these Timberland boots was able to keep my feet warm during the coldest days.
It's 1 P.M. you're at the construction site working on some things when BAM! a hammer falls down from your waist and crashes your toes.
If you could reverse the time, what would you have wanted to use: steel toe boots or plain toe ones?
In my case, I find safety toes essential because you never know when you might need extra protection.
Although these Timberland boots come with two different types of safety toes, the result is the same: your toes will be safe from ANY falling objects–not just hammers.
I remember the first time I felt at the construction site and busted my front teeth.
I've never felt more stupid.
Which is why now I search for good outsoles when looking for work boots, such as the dual-density thermal plastic urethane outsole of these Timberland boots.
Not only is it oil and slip resistant with deep lugs for traction, but it will decrease your chances of falling and getting injured–or like in my case, falling and making a complete fool of yourself.
If you love being more than safe when wearing a pair of work boots, then you'll love these Timberland PRO Boondock work boots as they come with the so-called "Ever-guard leather heel" made for resisting abrasion.
As I have personally experienced, this feature works well in keeping your feet safe from possible abrasions that could happen in the workplace, which is all you can ask from this type of feature, right?
Heels are vital. If you get them injured, you'll be unable to work for at least a month.
One of the things I loved about these Timberland boots was that they had a rigid external heel cup that allowed me to move as much as I needed during the testing period while also keeping me safe from injuries.
And, if you're like most construction workers, flexible movements are an essential part of the job, which gives this feature much more value.
All a worker needs from his pair of work boots is quality and a great construction method used to make them.
Which is exactly why I'm so glad these Timberland boots were made with a combination of the "Goodyear Welt" and the "Cement Heel" construction methods.
These methods are known for improving the endurance of any pair of work boots, something that's very important for all tradesmen.
Getting a pair of work boots might mean that you like to have EXTRA protection when working.
Just as with any manual labor job, there are certain parts of your feet that tend to get beaten up more than others–such as the toes–and having a little extra protection there isn't a bad idea at all, which is why I think that the Molded Timberland PRO Rubber Toe Protector is a great add-on to the boots!
Have you ever worked feeling completely unbalanced? Like if your work boots would throw you out of balance instead of helping you do your job while feeling safe?
Well, I have felt that, and let me tell you it's no fun…
Which is why I really liked the fiberglass shank feature included in these boots which gave me structural support and kept me balanced during the testing period.
Not to mention, the boots really did prevent injuries that might have come from imbalanced feet helping me move more freely throughout the work day.
It's the middle of the morning, you feel your feet are a mess and you think to yourself, why in the hell this happens if my boots cost more than a hundred dollars!!
Well, that occurs when you have boots that weren't constructed to dynamically support your feet.
Luckily for me, that wasn't on my mind when it came the time of testing these Timberland PRO boots as they contained a dual-density dynamic anti-fatigue technology.
2) Timberland "PRO Direct Attach" Steel Toe Waterproof Insulated Shoes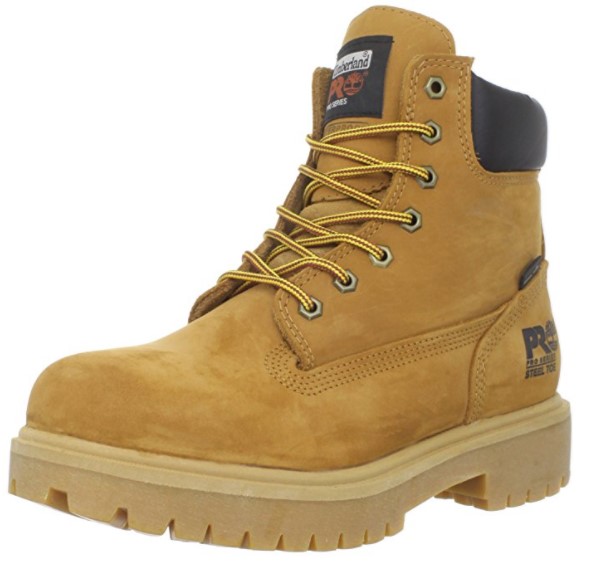 In my opinion, all work boots should have at least 70% of their structure completely insulated which is why I love the 400 grams of insulation of these Timberland boots as they didn't allow cold air particles to get inside the shoe and making my feet feel freeze.
Having to work every day at a construction site (or a similar work area) means that the chances of you slipping and falling when walking are really big, so it's a great idea to have these boot's oil-resistant, non-marking rubber lug outsole as an added safety measure.
Not to mention, this feature really gives you the confidence to be able to walk on all surfaces without being afraid of you slipping and/or falling and injuring yourself.
Having proper footbeds when working is essential.
I mean, every step counts and if you're not comfortable when walking or standing up at your job, things are gonna get nasty pretty quickly for you.
This is why the mesh linings and open-cell polyurethane comfort footbeds work so well.
With every step you take, it actually feels like your feet are being cushioned and it gives you an overall sense of comfort during the day, which is a deal breaker for workers.
Do you like coming home from work to take off your boots and smell the humid and putrid odor that your feet generated during your work hours?
Yeah, me neither…
This is one of the reasons I love these Timberland Pro Direct Attach work boots.
When I come home from a long day of work, I don't have to worry about any kind of odor emanating from my feet since their footbeds have been treated with an antimicrobial treatment that will resist ANY TYPES of odors.
3) Wolverine "Gold" Insulated Waterproof Work Boots
All that a pair of waterproof insulated work boots NEEDS to have no matter what, is a great type of insulation.
And the 400 grams of Thinsulate Ultra insulation that comes with these Wolverine boots is, in fact, pretty great at keeping your feet warm and dry.
Having to work with cold or wet feet is pretty awful, but having to work with both wet and cold feet is just unbearable–which is why I think having this feature is so vital.
Getting a pair of work boots not always means that you'll be completely out of trouble when walking at your construction site.
But that's not the case with these Wolverine Gold work boots as they're made with materials and features designed to protect you from the elements–such as their slip, oil, water, chemical, abrasion, and heat resistant outsole.
I mean, when wearing these work boots on sketchier surfaces, I don't feel the any nervousness since I know the outsole is made with workplace safety in mind.
Being comfortable while doing demanding jobs is vital.
You just won't have the same performance when using a pair of work boots that makes you feel uncomfortable than when wearing comfortable footwear.
That's why I'm pretty fond of the removable full-cushion footbeds that come with these boots as they let me be not distracted by my feet being uncomfortable so I can focus on actually what's important: work.
"I would never have imagined that these boots were this bad!!"
That's what I thought after a week of using work boots made from a famous brand and seeing them completely broken apart.
But, at least after a few months, that wasn't what happened whit these Wolverine boots.
No matter what kind of tough task I had to do, the boots stayed together and endured because of the leather upper and rugged boot laces which did a great job on keeping the boots completely fine.
Have you ever felt like if you were wearing boots made of iron instead of leather work boots? Well, at least for me that's what happened (and still happens) with at least 30% of the boots I've used in my life.
But in the case of these Wolverine work boots, things didn't go down that road because of the lightweight construction that the boots are made with, I didn't feel like I was having to haul another hundred pounds with me in every step.
Not to mention, it also helped the boots be more flexible and adapt to my movements around the construction site much better.
As a victim to owning boots with incredibly short life spans, I can tell you firsthand how annoying it's to waste your money on repairs and replacements.
When I saw that these boots were made with the Direct Attach construction method, I was pretty happy as this technique has been known to make long-lasting work boots, something that's essential to any worker who is tight on money.
You're a month in after you've purchased your new pair of work boots, you're happy because they've broken in well and they started to feel comfortable when you see the outsoles are completely destroyed.
Something went wrong and you know what, the boots had really bad outsoles.
4) Irish Setter 83838 "Mesabi" Waterproof Insulated Shoes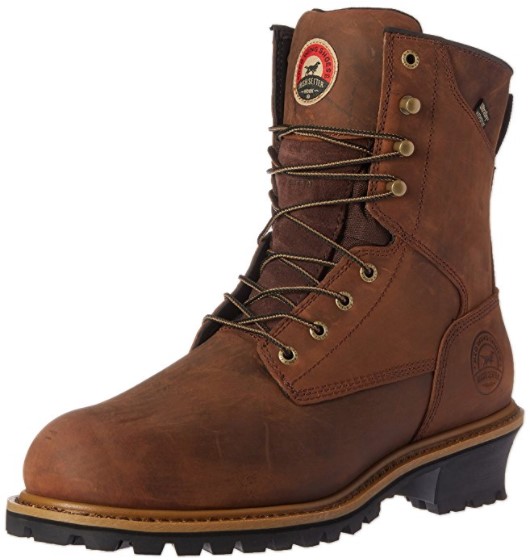 I remember the first time I had to work under the pouring rain. Feeling the water coming inside my boots.. it was awful.
That's why I always appreciate when a pair of work boots have waterproof leather, such as these Irish Setter Mesabi work boots.
The first thing I noticed with these boots is that not only did it keep my feet dry in the rain, but it also prevented the water from getting inside and ruining the boot–which was a definite plus.
If you like having your work boots in a "like new" condition for a long, long time, then you'll have to get yourself a pair built with trustable construction methods.
This is why I really like these boots as they were made following the Goodyear Welt Construction method as it's known to bind the boots together in a way that makes them last longer and endure whatever tasks they need to.
Getting yourself a job as a tradesman might mean that you'll have to work under really low temperatures.
I mean, freezing your butt will just be part of the job, which is why having boots with insulation material is vital.
The great thing about these boots 600 Grams of Thinsulate Insulation is that even if you are freezing your butt off, your feet will feel just fine.
As I have experienced, the insulation is great at keeping your feet warm and dry no matter what kind of conditions you have to work in.
Furthermore, you'll probably have to get used to working under the pouring rain or in constant contact with water, which is why I liked these Irish Setter work boots.
Even when I knew the weather was going to be bad, I didn't have to worry since I knew the guaranteed Ultra Dry Waterproof membrane would keep my feet dry in all conditions.
When you buy yourself a pair of work boots, you expect them to have protective features recognized by the most respected safety standards around the world…
And the fact that the safety toe of these work boots meet the ASTM F2413-11 high-quality standards is just another bonus since you won't have to worry about your toes possibly getting crushed by falling equipment or tools!
There're many risks at steaks when working as a tradesman, we all know it.
And one of those risks is getting electrocuted while working, which is why during the testing period I was thankful that these boots were Electrical Hazard Rated since I didn't have to worry too much about the possibility of electrocution when at work.
One thing I really do love about the Irish Setter boots is that they do come with a great outsole that's slip, oil/gas, chemical, abrasion, and heat resistant so that it doesn't matter what kind of surface I'm working on–I'll still be safe.
5) Chippewa Waterproof Insulated Steel-Toe EH Logger Shoes
All a worker needs for working under low temperatures is a great type of insulation. And that's exactly what comes with these Chippewa work boots.
From experience with them, the 3M Thinsulate Ultra insulation is pretty great at keeping your feet warm and dry in cold temperatures–even if I felt like I was freezing everywhere else.
Getting a pair of waterproof work boots always meant that you'd have to bear with sweaty feet as boots made with this technology wouldn't let air flow.
Luckily, the Chippewa boots seemed to have solved this issue and I'm seriously grateful for it. The Waterproof and Sweat-permeable membrane hasn't only kept my feet dry on the rainiest of days but also sweat-free as well, leaving me free of the worries of having my feet completely soaked in disgusting sweat.
Let me ask you a question: Have you ever had to work with water inside your boots?
If your answer was positive, then you know how uncomfortable that can be, which is why I think having a waterproof insole, such as the Removable Texon 460 Waterproof insole, is vital.
Not only did it protect my feet from coming in contact with water, but it's also proven to be pretty good at shock absorption too.
Protection is key, right?
No one wants to find themselves with a broken toe, which is why big brands incorporated features such as safety toes in their work boots. And the Chippewa work boots are no exception to this rule.
Their safety steel toe was made to stop your toes from getting crushed and as most construction workers know, there's too much falling equipment to ignore and not worry about this risk.
If you don't want to find yourself getting electrocuted while working your job, then you may want to get yourself a pair of boots with electrical hazard features.
Such as the Electrical Hazard feature on these Chippewa work boots that prevent you from getting electrocuted during the day.
I mean, what's more worrying that knowing you could be electrocuted in any step you take at the construction site you work at?
Feeling supported and stabilized is essential for all workers, especially for construction workers, which is why features such as shanks are so important in a pair of work boots.
When using these boots, I noticed that the Triple Ribbed Steel Shank made me feel stable while I was working and didn't hold me back movement-wise. Not to mention, after only a few hours of use, I lost the fears that come along with wearing unsupportive work boots.
Wasting time sucks, right?
I mean, nobody appreciates time more than me, which is why every time I see a pair of work boots equipped with features that let you save time I get excited, which is what happened with these boots speed hooks on these shoes.
The easy lacing saved me time and helped me get to work faster without any kind of delay or frustration.
I remember the first time I wore some cheap Asian-made work shoes, they were so bad that they didn't last me more than 3 months.
That's why from then on, I always try to buy American-made work shoes.
And that's why I was originally drawn to these Chippewa boots which were handcrafted in the USA.
It's not news that American shoes are more durable, and as I can tell you, these shoes were worth my money and lived up to that standard.
If you like spending money on shoes that you know are gonna last you a long time, then these Chippewa work shoes are for you since they're made with the so-called "Goodyear Leather Welt construction method"–which is known to be durable and adds years to the lifespan of the shoes.
Features and Specifications
3M Thinsulate Ultra Insulation
Waterproof, but sweat-permeable membrane
Vibram Tacoma Logger Outsole
Removable Texon 460 waterproof insole
2″ logger heel.
Steel Toe
Electrical Hazard Rated
Dri-Lex
Chip-A-Tex
Triple ribbed steel shank
Sturdy-footing Vibram Tacoma yellow plug logger sole.
Speed hooks for easy lacing.
Handcrafted in the USA
Goodyear leather welt.
Heavy-duty, stay-put waxed laces and tarnish-resistant hardware.